Discover a World of Color with Wholesale Tie-Dye French Terry Fabric!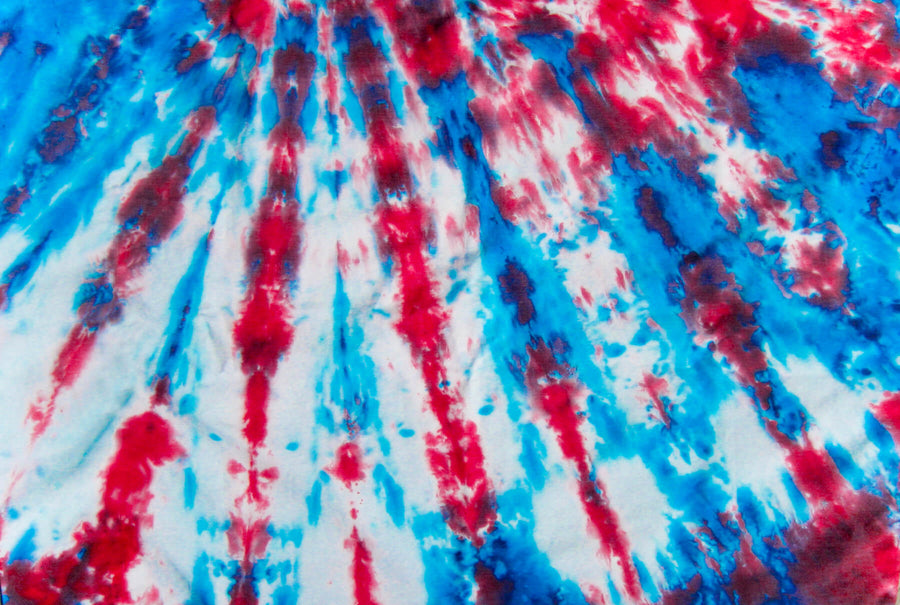 In the vast landscape of the wholesale fabric market, where variety and quality reign supreme, tie-dye fabrics stand out as a riot of colors and patterns. These fabrics not only add a burst of life to your creative projects but also carry a unique charm rooted in the tie-dyeing technique. This blog post is your guide to exploring tie-dye fabrics, specifically focusing on Tie-Dye French Terry Fabric, Tie-Dye Fabric, and Tie-Dye Power Mesh Fabric.
👉Also read: Upgrade Your Collection with High-Quality Washed Fabric: Wholesale Supplier Excellence
Tie Dye Fabric: The Art of Color Unleashed
Tie-dyeing is truly the art of color unleashed. It's a captivating craft that allows individuals to transform plain fabrics into vibrant canvases of self-expression. This ancient technique, with its roots tracing back to various cultures worldwide, has evolved into a boundless realm of creativity where every outcome is a testament to the artist's imagination.
The essence of tie-dye lies in its simplicity. Fabrics are contorted in various ways, typically through methods like folding, crumpling, twisting, and binding. These manipulated sections of the fabric then resist the dye in unique patterns, creating a mesmerizing blend of colors and shapes. It's a process that encapsulates both randomness and intentionality, resulting in one-of-a-kind designs that cannot be replicated precisely.
Tie-dyeing is a versatile art form, lending itself to a myriad of textiles, from cotton and silk to linen and even synthetics. This adaptability has made it a cherished technique across the globe. Each culture brings its own twist to tie-dye, resulting in distinctive styles and patterns. For example, Shibori, a Japanese tie-dyeing technique, involves intricate and precise folding, stitching, or binding before immersing the fabric in dye. In contrast, the American tie-dye movement of the 1960s embraced bold, vibrant colors and free-form, psychedelic designs.
The resurgence of tie-dye in contemporary fashion speaks to its enduring allure. People are drawn to its ability to reflect their personality and mood. Creating your own tie-dye masterpiece can be a therapeutic and meditative process, allowing you to blend colors, experiment with patterns, and channel your emotions into a wearable work of art.
Tie-dye also aligns with a growing awareness of sustainable fashion. Many DIY enthusiasts and eco-conscious consumers appreciate the environmental benefits of creating unique, long-lasting pieces rather than supporting fast fashion. By breathing new life into old garments through tie-dye, individuals contribute to reducing textile waste and minimizing their carbon footprint.
Tie-dye's resurgence has also led to its incorporation into mainstream fashion, with designers and brands adopting tie-dye techniques in their collections. From high-end runways to streetwear, tie-dye has proven its timeless appeal, appealing to people of all ages and style preferences.
Tie Dye French Terry Fabric: A Masterpiece of Comfort and Style
Tie Dye French Terry Fabric is a visual symphony of colors and patterns. Crafted with meticulous precision, this fabric features a smooth surface adorned with intricate tie-dye designs. Its underside is a cozy, looped texture that feels luxurious against your skin. It's a harmonious blend of style and comfort.
This remarkable fabric has a rich history that dates back to the 19th century. French Terry fabric, originally known as "towel cloth," was initially used for towels and sportswear due to its excellent moisture-absorbing properties. Over the years, textile artisans perfected the art of dyeing, leading to the birth of tie-dye techniques. This innovative process allowed a wide array of vibrant and expressive patterns to infuse into the fabric.
One of the standout features of Tie Dye French Terry Fabric is its ability to evoke a sense of nostalgia while remaining firmly rooted in contemporary fashion. The tie-dye method, characterized by its bold, contrasting colors and eye-catching swirls and patterns, became iconic during the counterculture movements of the 1960s and 1970s. It was a symbol of self-expression, creativity, and breaking away from the traditional fashion norms.
In the present day, Tie Dye French Terry Fabric continues to be a beloved choice for those who seek to make a fashion statement while prioritizing comfort. Its versatility is unmatched; it can be fashioned into a wide range of garments and accessories. From cozy hoodies and sweatpants to stylish dresses, t-shirts, and even accessories like scarves and headbands, this fabric lends itself perfectly to a variety of fashion choices.
The unique combination of tie-dye patterns and French Terry's inherent softness and warmth makes it a favorite for all seasons. During the chilly months, it provides a comfortable layer of insulation, keeping you warm without feeling heavy. In warmer weather, its breathable properties wick away moisture, ensuring you stay cool and comfortable.
👉Also read: Why Tie-Dye Fabric Is So Popular
Tie Dye Power Mesh Fabric: Unleashing Style and Performance
Tie-dye has long been celebrated for its vibrant and expressive designs, and when combined with Power Mesh Fabric, it takes on a whole new dimension. Tie Dye Power Mesh Fabric is a testament to the fusion of style and performance, offering a unique blend of aesthetics and functionality that caters to a wide range of creative and athletic pursuits.
Power Mesh Fabric, with its characteristic hexagonal or diamond-shaped knit, is renowned for its exceptional breathability and lightweight feel. It is a favorite among athletes and activewear enthusiasts, providing the necessary ventilation and comfort needed during intense physical activities. The addition of tie-dye to this high-performance fabric elevates it to a whole new level of fashion-forward functionality.
One of the standout features of Tie Dye Power Mesh Fabric is its visual appeal. The tie-dye process, with its intricate patterns and vibrant colors, transforms the mesh into a work of art. The combination of the soft, breathable mesh and the striking tie-dye designs creates a fabric that is both eye-catching and comfortable. Whether you're looking to craft stylish activewear, athleisure garments, or even accessories, this fabric offers a dynamic canvas to unleash your creativity.
The tie-dye patterns on Power Mesh Fabric can range from classic spirals and swirls to more modern and abstract designs. This diversity allows designers and creators to cater to a wide range of tastes and preferences, making it suitable for both casual and performance-oriented fashion.
In the realm of activewear, Tie Dye Power Mesh Fabric truly shines. Its lightweight and breathable nature make it ideal for sports bras, leggings, tank tops, and other workout gear. The mesh structure allows for optimal moisture-wicking and temperature regulation, ensuring that you stay comfortable during your most rigorous exercise routines.
Beyond the gym or yoga studio, Tie Dye Mesh Fabric finds its way into everyday fashion. It can be used to craft unique tops, dresses, and even swimwear that exude style and personality. The combination of tie-dye's expressive patterns and the fabric's airy texture adds a touch of bohemian chic to any wardrobe.
Furthermore, this fabric speaks to the growing emphasis on sustainability in the fashion industry. Many manufacturers now use eco-friendly dyeing methods and sustainable materials, such as recycled polyester, in the production of Tie Dye Power Mesh Fabric. This commitment to ethical and environmentally conscious practices resonates with consumers who value both style and responsible production.
Tie Dyed Stretch Mesh: An Artistic Fusion of Style and Flexibility
Tie Dyed Stretch Mesh has a natural allure that transcends seasons and occasions. Its lightweight and breathable properties make it a versatile choice for warm-weather attire. Whether you're designing flowy summer dresses, beach cover-ups, or breezy tops, this fabric offers the ideal combination of comfort and style. Additionally, its stretchiness ensures a flattering and forgiving fit for a range of body shapes.
This fabric truly shines in the realm of festival wear and artistic fashion. Its tie-dyed patterns lend themselves perfectly to the vibrant and eclectic aesthetics of music festivals and creative gatherings. From flowy kimono-style cardigans to daring bodysuits, designers have embraced Tie Dyed Stretch Mesh to create outfits that reflect the free-spirited and expressive energy of these events.
Costume designers and performers also find Tie Dyed Stretch Mesh to be an invaluable resource. The fabric's ability to stretch and conform to the body allows for dynamic movement and comfort on stage or in front of the camera. It is commonly used for dance costumes, theatrical productions, and music videos, where its unique patterns can enhance the visual impact of performances.
Explore Search For Fabric's Stunning Tie-Dye Fabric Collection
At Search For Fabric, we take pride in curating a vibrant array of tie-dye fabrics that are tailor-made for your creative endeavors. Our fabrics have the power to breathe life into your arts and crafts projects, elevate your DIY tie-dye shirts, and infuse a unique vibrancy that sets them apart from the rest.
When you delve into our tie-dye fabric wholesale collection, you'll be captivated by the quality, details, colors, and patterns that await. We offer a diverse range of fabrics, each with its own distinctive appeal. Our selection includes:
Among our treasures, our 100% cotton tie-dye fabric stands out as a crowd favorite, boasting both beauty and versatility. As you navigate our website, you'll have the opportunity to immerse yourself in the wide spectrum of fabrics we offer.
We understand that every project is unique, and that's why we're committed to providing options that cater to your specific needs. Whether you're working on a small-scale craft or a large-scale masterpiece, we have you covered. Our wholesale prices are unbeatable, outshining even the most prominent sellers on platforms. We also offer fabric by the yard, but our wholesale rolls are especially popular among our customers.
👉Also read: Get Comfortable with Brushed DTY Fabric: Benefits and Project Ideas
Navigating the World of Fabrics: Shopping and Ordering at Search For Fabric
Shopping for fabrics can be an exhilarating experience, especially when you have a wide selection of high-quality materials at your fingertips. At Search For Fabric, we aim to make your fabric shopping journey not only exciting but also effortless and convenient. Here's a guide to help you explore our world of fabrics and place your orders seamlessly.
Browse Our Collection: Start your journey by visiting our website, where you'll find an extensive array of fabrics, including our stunning tie-dye collection. You can explore various categories, from jersey knit to fleece, to find the perfect material for your project.
Detailed Product Pages: Click on the fabric you're interested in to access detailed product information. Our product pages provide essential details such as fabric composition, width, and available colors. You can also view high-resolution images to get a closer look at the patterns and textures.
Select Quantity: Choose the quantity of fabric you need, whether it's by the yard or in wholesale rolls. Our easy-to-use ordering system allows you to specify the exact amount required for your project.
Add to Cart: After selecting your quantity, simply add the item to your shopping cart. You can continue browsing our collection or proceed to checkout if you've found everything you need.
Secure Checkout: When you're ready to complete your purchase, click on your shopping cart icon. Our secure checkout process ensures that your payment information is protected.
Review and Confirm: Before finalizing your order, take a moment to review your selections, quantity, and shipping details. Once you're satisfied, click "Confirm Order" to complete the transaction.
Order Tracking: After your order is processed, you'll receive a confirmation email with tracking information. This allows you to monitor the progress of your shipment and estimate its arrival.
If you have any questions or encounter any issues during the shopping or ordering process, our dedicated customer support team is here to assist you. Feel free to reach out through our contact channels for prompt assistance.
At Search For Fabric, we're committed to providing you with a seamless and enjoyable fabric shopping experience. Whether you're a seasoned creator or a fabric business owner, we're here to supply you with the materials you need to bring your creative visions to life. Explore our collection, place your order with confidence, and embark on your next exciting project with us as your trusted fabric partner.