Hachi Fabric: A History and How to Use It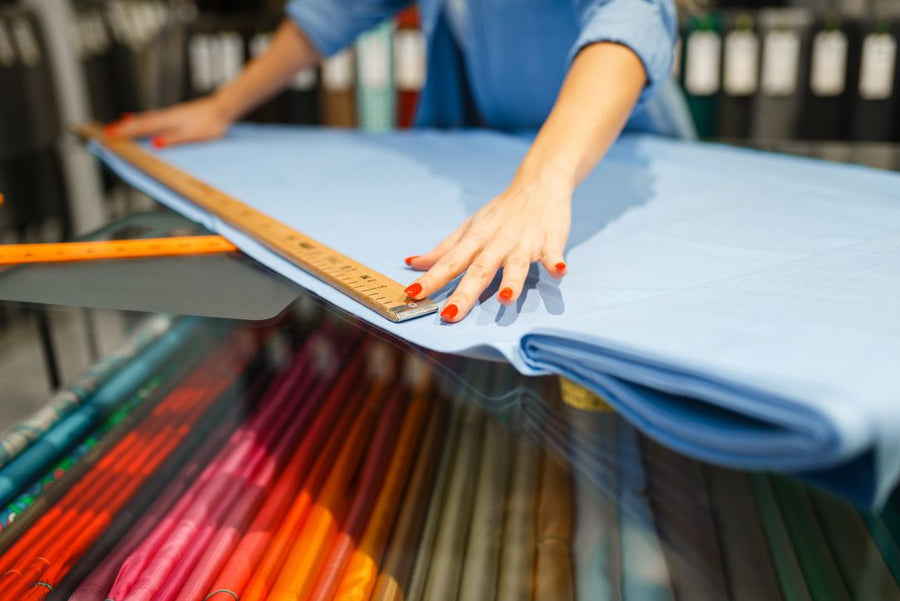 Looking for a versatile fabric that can be used for a variety of projects? Look no further than Hachi fabric! This unique material has a rich history that dates back centuries. We will dive into its origins and how to use it in your own projects. Whether you're looking to create a new coat or scarf, Hachi fabric is a perfect choice for these projects! 
What Is Hachi Fabric?
Hachi fabric (or Hatchi fabric) is a spandex-polyester blend that was created in Japan. It is known for its unique weave and stretchy properties. This fabric is often used in sportswear and activewear due to its property of stretchability and being able to move with the body. It's also lightweight and breathable, making it a comfortable choice for apparel. The fabric industry recommends people use this fabric for sweater knits and regular cotton knits. One of the best things about this kind of fabric is that it can serve as a nice shawl because it is light and easy to wear. 
History of Hachi or Hatchi Fabric
Hachi fabric was first created in the early 1900s in Japan. It was originally used for kimonos and other traditional garments. The fabric gained popularity due to its unique properties and ability to stretch without tearing. In the 1950s, this fabric was introduced to the United States and quickly became popular among athletes and dancers. The fabric became even more popular in the 1980s when it was first used for activewear and workout clothing. 
Spandex, cotton, polyester, and wool all make a great combination, and these are the materials used to make Hachi fabric. Using this type of fabric for sewing is great, especially if you buy from a reputable company like Search for Fabric. Since the fabric is cozy, has great texture, and is versatile, you can guarantee that any outfit will be stylish and snug at the same time!
How To Use Hachi Fabric
With its versatility, Hachi fabrics can be used for various projects. The fabric is perfect for creating garments that need to be flexible so that it is fitting and functional at the same time! This is the reason why activewear brands prefer to use this fabric when designing and creating their clothes. The fabric can also be used to make accessories, such as headbands and scarves, which means that with every purchase of Hachi fabric, you can complete various projects!
If you're looking for a versatile and easy-to-care-for fabric, Hachi fabric is the perfect choice for you. You don't have to worry about the fabric tearing or stretching out of shape. Therefore, it's the best fabric to use for projects that will produce clothes and accessories that are used for a lot of movement!
What Makes Hachi Fabric Better Than Other Kinds of Fabric?
First, you can expect Hachi fabric to be long-lasting when you use it to make garments and accessories. This is because it doesn't rip easily. Athletes and fitness junkies love Hachi fabric because it can withstand a lot of wear and tear.
Second, you don't have to worry about Hachi fabric getting wrinkled. This makes it perfect for traveling! After all, putting clothes in a bag or suitcase often causes this. With Hachi fabric, you can travel worry-free and feel confident that you can wear clothes that will look great even if you've just pulled them out of your bag! 
Last but not least, Hachi fabric is very easy to care for. You can machine wash and dry it on a low setting. This makes it a great choice for people who do not have a lot of time to spare for laundry. 
Now that you know more about the fabric, why not try using it in your next project, especially if you are looking to make activewear or travel clothing.
What Are the Disadvantages of Using Hachi Fabric?
Of course, Hachi fabric is not perfect. There are a few disadvantages of using this fabric. First, it's not as breathable as other fabrics. This means that it can make you feel hot and sweaty when you wear it, especially in warm weather.
Secondly, it's not as absorbent as other fabrics. It is not a good choice for making clothing that will get wet, such as swimwear. However, it will suffice as activewear.
Last but not least, Hachi fabric is not as environmentally friendly as other fabrics. This is because the fabric is made from synthetic fibers, which take longer to break down in landfills. Therefore, you need to plan your projects carefully so that you won't end up having to throw out excess fabrics that will end up in landfills.
Despite these disadvantages, Hachi fabric is still a popular choice for many people.
What Clothes Can I Make Using Hachi Fabric?
As mentioned before, Hachi fabric is a versatile material that can be used for various projects. Here are some clothing items that you can make using it:
Leggings
Hachi is a great choice for leggings because it is stretchy and form-fitting. The fabric also moves with your body, making it perfect for workout leggings.
Shorts
It is also a great choice for making shorts. The fabric is light and breathable, making it perfect for warm weather. Plus, the fabric will dry quickly if you get sweaty.
Sports bras
If you're looking for a sports bra that will support your body and move with you, Hachi fabric is a great choice. The fabric is flexible and versatile, making it perfect for working out.
Headbands
Hachi fabric is also great for making headbands. The fabric is lightweight and flexible, ideal for keeping your hair out of your face but still being comfortable.
Scarves
You can also use Hachi fabric to make scarves. The fabric is soft and cozy and keeps you warm in cold weather.
With these ideas, we hope you will be inspired to use Hachi fabric in your next project! Whether you're looking to make leggings, shorts, or a scarf, it's a great choice.
How To Use Hachi Fabric 
Now that you know more about Hachi fabric, here are some tips on how to use it:
When cutting it, be sure to use sharp scissors. This will prevent the fabric from fraying.

If you are sewing Hachi fabric, be sure to use a stretch stitch. This will allow the fabric to stretch without breaking the thread. One-knit stitches are also a good choice.

Hachi fabric can be ironed on a low setting. However, be careful not to overheat the fabric, as this can damage it.

It can also be machine washed and dried on a low setting.
With these tips, you will be able to use Hachi fabric with ease! Be sure to experiment with different stitches and cuts to find what works best for you. Once you do, you will be surprised at how versatile it can be.
Is Hachi Fabric Affordable?
One of the best things about Hachi fabric is that it is very affordable. You can find this fabric at most online fabric stores, such as Search For Fabric. The price of it varies depending on the retailer.
This makes Hachi fabric a great choice if you are looking for a high-quality fabric that is also budget-friendly. With its unique properties and affordable price, it is definitely a fabric that you should consider using in your next project!
You can make multiple clothing items from Hachi fabric, which means that you have the freedom to let your creativity flow. You can start with simple projects and then move on to more complex ones.
So, what are you waiting for? Start exploring the world of Hachi fabric today! You won't be disappointed with the results.
About Search for Fabric
Search for Fabric is a company that has been around for 20 years. As a family-run business, we take pride in our customer service. This means always striving to go above and beyond for our customers! After all, we'd be nothing without them. 
Based in LA, our company always makes sure that the fabrics we sell are of good quality. You can confidently say that our fabrics will make all your projects stand out! We have a wide range of fabrics, including Hachi fabric, that you can choose from. This means that you can count on us to provide you with the ideal type of fabric that you're looking for! 
One of the best things about our company is that we have an updated inventory management system. Because of this, you have the assurance that all the fabrics you see on our website are in stock and ready to be shipped! We understand how disappointing it is to want to order something and then find out that it's out of stock. With us, you never have to worry about this. As long as it's on the website, you can purchase it any time!
We also know how important it is to get your fabric on time, so we make sure that our fabrics are shipped in a timely manner. With our wide range of shipping options, you can always choose one that best suits your needs! 
Plus, our order processing time is very fast. We usually ship orders within 24 hours, so you can expect to receive your fabric in no time! We value our customers' time, so we make sure that their orders are processed and shipped as quickly as possible. You no longer have to worry about dealing with bottled excitement for too long.
At Search for Fabric, we always put our customers first. We want to make sure that you are 100% satisfied with your purchases. If you have any questions, please do not hesitate to contact us. We would be more than happy to help you so that you can get the fabrics you need to complete your projects.
We offer plenty of colors and designs for Hachi fabric. You can choose from black, white, blue, pink, purple, and more! This means that you can buy as much or as little as you need for your project.
If you are looking for a specific color or type of this fabric, we would be more than happy to help you find it. We understand that every project is different, and we want to make sure that you have the perfect fabric for your needs!
We can't wait to see what you create!
Conclusion
Hachi fabric is a great choice for many different projects. It is affordable, high-quality, and versatile. With Hachi fabric, you can make clothes and accessories like leggings, shorts, sports bras, headbands, scarves, and more! This means that you can unleash your creativity to engage in projects that help you create clothes and accessories that you can flaunt with confidence.
If you are interested in ordering Hachi fabric, you can browse our selection here. Contact us if you have any questions.