Plaid Fabric: The Versatile Material for Fall and Winter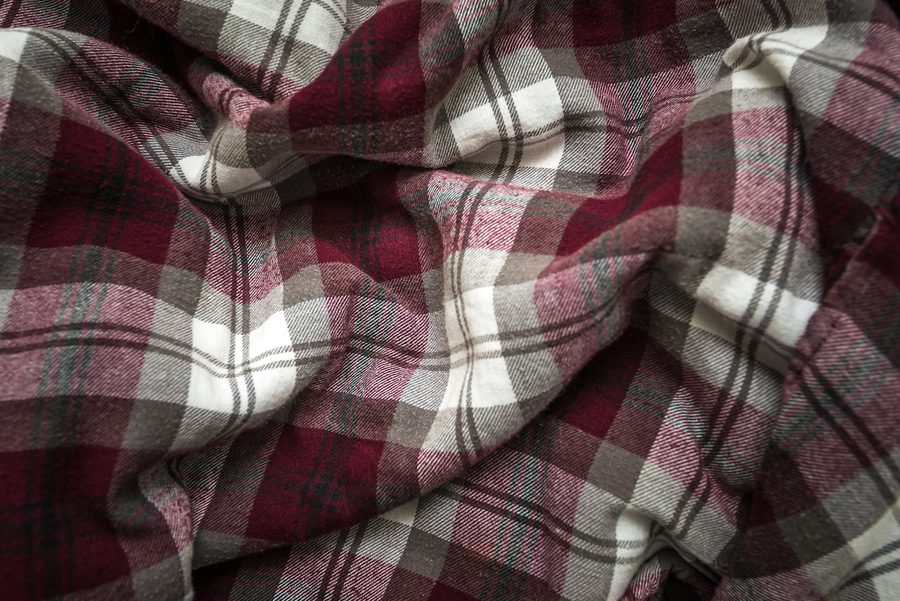 Autumn is upon us and winter is just around the corner. Leaves are beginning to change color and fall into the yard, the air is getting cooler, and the sun is setting earlier. If there's one thing we've learned over the years, it's that the colder seasons are the perfect time to layer up and bring out the timeless and versatile plaid fabric. 
What Is Plaid Fabric?
The word "plaid" is a common word used by many people in various contexts and meanings. For one person, plaid is as a type of clothing; for another, it is a woolen cloth; for someone else, it is a fabric pattern. The truth is plaid fabric is a combination of all these descriptions. 
Plaid fabric typically features stripes or different color bands that intersect with one another to form a particular shape. In many cases, you can find plaid patterns as part of a fabric weave or superimposed on an existing fabric. 
The most common type of fabric used for plaid patterns includes wool, cotton, or a mixture of both. Depending on the purpose of the fabric – whether it'll be turned into scarves, shirts, skirts, kilts, or jackets – the thickness of the material may also vary. 
For example, a flannel plaid material can be used to make casual shirts and pants or pajamas for optimal coziness. Alternatively, thicker fabrics and woolen yarns are good for making durable and heavy-duty clothing like jackets, trousers, skirts, and kilts. However, any plaid garment is an excellent addition to everyone's closet for the fall and winter seasons. 
Different Types of Plaid Fabric
Although plaid fabric has a distinct look and feel, it comes in a variety of colors and styles. In this section, we'll take you through some of the more common patterns you might come across when you look for plaid fabric to make clothing and accessories. 
Buffalo Plaid
Buffalo plaid is usually made with two colored yarns intersecting with one another to form large blocks. While the original colors are red and black, many designers have ventured to try various color combinations, like white and blue, grey and black, yellow and black, and so on.  
Gingham
Similar to buffalo plaid, gingham is made with two colored yarns that intersect with one another. The difference, however, is that the blocks they make in a gingham pattern are much smaller in scale. 
Due to its smaller pattern width, the gingham type of plaid fabric comes off as more subtle and sophisticated than buffalo plaid. It has become a classic, timeless, and versatile fabric that works with a wide range of fashion pieces and is often found in home décor as well. 
Tartan Plaid
Of Scottish origin, tartan plaid consists of crisscrossed vertical and horizontal bands. Often, these bands come in multiple colors, usually at least three, which make tartans look more dynamic and visually appealing. 
Although the traditional material of a tartan plaid is woven wool yarn, many modern creations of this pattern make use of other materials, such as cotton and viscose blends. Overall, tartan plaid is a great option if you want to achieve a rustic, lodge-like aesthetic with your clothes. 
Houndstooth
Another plaid fabric from Scotland, houndstooth is most commonly known for its one-of-a-kind square patterns. Each square has pointed edges that resemble sharp teeth. In addition, the patterns are more close-knit, which makes this fabric more distinct. 
You'll often find this pattern in more formal clothing like suits, trousers, dresses, brushed coats, or in the lining of sports jackets. The pattern gives off a sophisticated appearance and creates an illusion of texture that elevates garments to a whole new level. 
Windowpane
As the name suggests, windowpane plaid fabric resembles the patterns you would normally see on a window. It's made with thinner stripes that criss-cross with one another to form a windowpane check pattern. 
The simplicity of this design makes it a perfect combination to pair with busier prints and patterns. It is versatile enough to match a wide variety of colors and styles that people tend to incorporate as they layer up. The windowpane design is a staple plaid fabric during the colder months. 
Tattersall
Tattersall plaid is a pattern that dates back to the 18th century. It got its name from the Tattersall's horse markets in London and was popularly used to make blankets for these animals. Today, you'll find this pattern gracing casual garments, pillow covers, carpets, etc. 
Madras
While the other plaid fabric patterns stem from European or American origins, Madras comes from a town in East India of the same name. 
Unlike other styles, this type of fabric is much more vibrant and colorful. Of course, it still features the iconic plaid stripes, but they're typically presented in uneven checkered patterns. For this reason, Madras plaid fabric became popular in "preppy" fashion. You'll see the design mostly on shorts, casual shirts, and everyday dresses. 
What Material Is Used to Make Plaid Fabric?
Plaid fabric was predominantly made of 100% pure wool in the past since it was primarily made with durability and functionality in mind. However, as the years progressed, the material to make plaid fabric evolved, utilizing fabrics like flannel, twill, jacquard, bouclé, and other fabrics.
Flannel
Flannel is a kind of fabric that's crafted from loosely-woven fibers. Although flannels are often made with cotton yarn, they can also be made from fiber blends, wool, and synthetic fibers, such as polyester. Flannel is great for making you feel cozy and creating a strong barrier against cold winds.
Twill
Twill is considered one of the major classifications of textile weaves, alongside plain and satin weaves. What sets twill apart is its diagonal rib pattern and dual coloring (i.e., it has a dark-colored front side and a light-colored back side). Besides this, twill also has a high thread count, making the material thick, opaque, and durable. 
Jacquard
Jacquard is a type of fabric woven on what's called a Jacquard loom. This machine was invented by Joseph Marie Jacquard – a French textile craftsman – in 1804. Although it's most known for its ornamental properties, it is also a rather heavyweight and durable fabric, making it an ideal material for the fall and winter seasons. 
Bouclé
While some fabrics like Jacquard, twill, and flannel are seasonal and usually worn during colder months, bouclé is a timeless classic that can withstand any trend and any season of the year. 
Bouclé, meaning "curled" in French, is distinguished by its knotted or curly appearance, which typically comes from its oven weave. To give you a better picture, this is the type of material that frequently graces the runway for high-end fashion brands like Chanel and Christian Dior. 
Most of the new fabrics utilize thick materials that are ideal for withstanding the cold weather during fall and winter. These materials are perfect for layering because they're not too bulky or heavy on the body.
What Makes Plaid Fabric so Trendy in Fashion Today?
Believe it or not, plaid fabric's popularity dates back long before the 1990s. We can trace it as far back as the 1500s. 
The Origin of Plaid Fabric
Long before it became an American wardrobe staple, tartan plaid fabric was a primary garment for Scottish clans. In the 1500s, the different clans used unique tartan patterns to signify their identity. During the colder months, they used the plaid fabric as an outlet layer during the harsh Highland weather.
Sooner or later, plaid fabric was appropriated by the British as part of their emerging fashion patterns.
1700s
While it made its way to England earlier, the plaid pattern was banned in Great Britain for almost fifty years following the Scottish Rebellion of 1745. It wasn't until 1782 that the pattern resurfaced and once more became legal to adorn. 
With its new status, plaid fabrics became a go-to for British citizens for formal occasions and high society events. 
1850s to 1950s
In the second half of the 19th century, plaid fabric leaped from Europe to the United States, where it became even more popular due to the influence of a Midwestern company known as Woolrich Woolen Mills. The company introduced one of the most popular types of plaid patterns: the buffalo plaid. 
Its distinctive black and red checkered pattern became a go-to choice for people in outdoor professions and has become a staple look for lumberjacks. 
In 1924, a clothing company called Pendleton came into the picture and began mass-producing men's plaid shirts. After their release, these plaid fashion pieces became an instant hit in the casual wear department. 
In 1936, a new trend emerged: flannel. This became extremely popular during the bitter winter seasons as a way to protect people from the harsh cold. Both men and women found refuge in this thick fabric, and soon after, Pendleton debuted a female version of plaid in 1949 as their response to the growing demand. 
1970s
The connotations of plaid completely changed in the 1970s when it became a symbol of war and battle. It was seen as a form of liberation: a devil-may-care type of style. 
It also became a feature of the punk movement in Europe. It made appearances in daring clothing everywhere, from ripped jeans to shredded layers. Because of this, plaid fabric – which was originally supposed to be associated with the monarchy – received an anarchic spin that was spurred on by this growing cultural phenomenon (punk).
1980s
A decade later, fashion began to transform the image of plaid fabrics by incorporating them into movies like "St. Elmo's Fire" and "The Heathers." In doing so, they were able to pivot people's perception of plaid fabrics from punk fashion to a more preppy style. 
This was also strengthened further by Princess Diana when she exhibited the fabric's potential to become a pristine element of clothing. 
1990s
The new image didn't last for long, however, since plaid fabric became the unofficial symbol for grunge in the 90s. Renowned bands like The Breeders, Pearl Jam, and Nirvana rocked this type of fabric, which then influenced what is known as grunge fashion. In 1993, Marc Jacobs launched their notorious collection of grunge-inspired clothing, which featured flannel and plaid fabric. 
Although grunge fashion was making cultural waves across the Western world, the movie industry was determined to put plaid fabric in the mainstream and transform its image as idiosyncratic. You'll see the rise of plaid in this light reach its culmination in 1995 with the release of "Clueless."
Present Day
Today, plaid fabric is every one of its forms combined. That's what makes it so versatile. You'll see plaids and flannels sported by outdoorsmen, musicians, fashion designers, preppy academics, and people of all walks of life, especially during the colder months. 
The way plaid fabric has evolved has made it such a unique and trendy fashion item in today's world. It's no wonder plaid still considered a must in fall and winter design. 
Different Ways to Transform a Plaid Fabric
If you're a clothing designer or a fashion enthusiast that wants to integrate plaid patterns into your collection, there are several ways you can transform a roll of plaid fabric into something wearable. Below are just a few examples you can explore that are perfect for fall and winter.
Plaid Fabric for Coats
One of the must-haves during fall and winter is a good, durable coat. But why stick with the basic beige or black coats if you can elevate them by adding a pop of plaid? 
Of course, you can choose to create a coat that's fully made with plaid fabric, but we think that you can modernize it further by integrating plaid patches or sections. Doing this will add more character and dimension to your coat design. 
Plaid Fabric for Scarves
We can't go into the colder months without a thick and chunky scarf. More than just a fashion statement, a scarf is a necessity. It keeps your neck warm and cozy during times when the weather is just too cold for just a coat. 
Using plaid fabric to make your scarf is a great way to introduce patterns into everyday ensembles. Since plaid patterns are typically a mix of colors, they can easily match almost any outfit. 
Plaid Fabric for Long Dresses
Long dresses are a must-have in every woman's winter wardrobe. Not only are they an easy-to-wear option, but they're also extremely comfortable and versatile. Whether you're going out for errands or attending an event, a good plaid dress can easily elevate your whole look. The distinct patterns and textures will instantly stand out without being too loud. 
To make the dresses pop further, you can find plaid fabric in various colors like yellow, blue, grey, pink, or green.
Plaid Fabric for Suits
Speaking of events, everyone needs to have a classic plaid suit in their closet for when they want to look stylish yet professional. This is a great way to assert your unique style and stand out from the crowd of black, blue, and gray suits. With the right styling guide, you can even dress a plaid suit down for something more casual.
Where to Get Plaid Fabric
Are you looking for the best plaid fabric to elevate your designs this fall and winter? Look no further than Search for Fabric. We are a wholesale fabric company that specializes in fabrics of all patterns, including plaid. 
With over 50 years of experience in fashion, our expert team offers you the most trendy and fashion-forward fabrics. Discover high-quality plaid fabrics by visiting our website or contacting us at (213) 623-2522.