The Unique Qualities of Sheen Fabric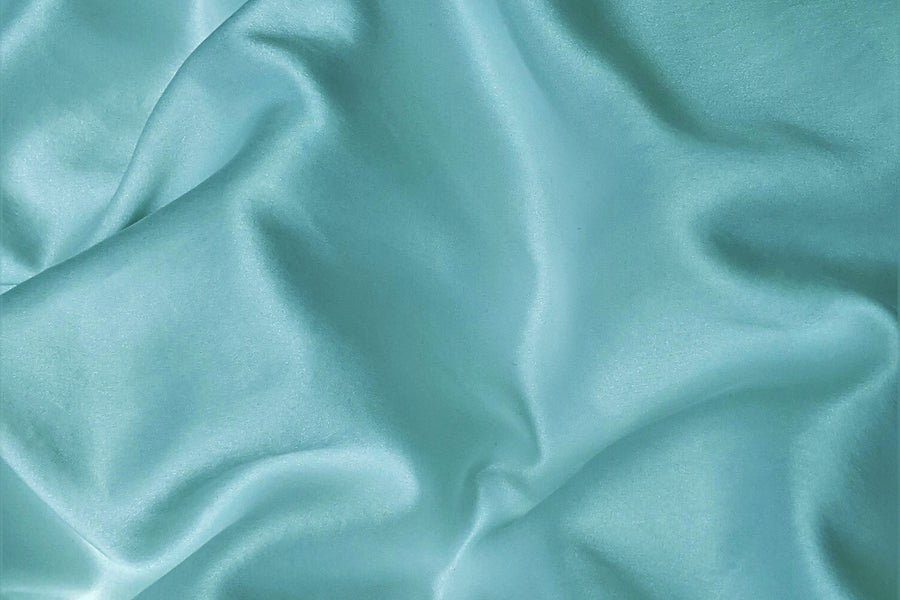 If you are looking for a beautiful fabric that can add a little bit of shine to your product collection, then sheen fabric is the ideal choice for you.
Search For Fabric is a leading wholesale fabric supplier that offers premium and high-quality sheen fabrics with a range of finishes. From brighter fabric with a highly shiny finish to darker fabric with sheen threads woven in, we have the perfect fabric solution to provide inspiration for your next project.
What Is a Sheen Fabric?
Sheen fabric is a type of fabric with a smooth surface that reflects high levels of light – adding a shiny luster. It is on the other end of the spectrum of a flat matte finish. Some fabrics with sheen include silk, satin, sateen, velvet, and more.
To make it shiny, sheen fabric is woven in a certain way. It is typically produced using a satin weave. Although the term satin is often used to refer to a type of fabric, it's helpful to keep in mind that satin is actually a type of weave. When used in this way, the term refers to a collection of fabrics that were made with the same sort of weave.
Other sheen fabrics are made with different weaves. Velvet, for example, is made using a pile weave with short, thick fibers closely woven together, but it is also very shiny.
Qualities of a Sheen Fabric
The defining quality of sheen fabric is that it will make your garment stand out – this material has a glossy, dazzling shine sure to catch the eye! Sheen fabric is renowned for its smooth, shiny, and luxurious appearance. Some people even add sequins or beads to their clothing to make it even more opulent and shiny.
The silky weave of a sheen fabric gives it a rich, elegant appeal. When making garments with sheen fabric, you'll find it has enough body to drape beautifully and move with the wearer, but also maintain its shape. Sheen fabric comes in any color or pattern imaginable so you'll be sure to find some favorites. It is a popular choice for dressmaking because of how it captures light and shadow under bright lights.
If you want something a bit less flashy, semi-sheen fabric is also available. Semi-sheen is a great option because it is less spectacular and attention-grabbing than a high sheen, yet it has more shine than dull matte fabrics. It will still give any fabric application a particular amount of depth and luster.
Product Applications of Sheen Fabric
Sheen fabric works well in many different fabric applications, particularly clothing and accessories. When deciding whether sheen is the right fabric to create a product, it boils down to your own preference. However, including sheen in your project design will undoubtedly improve the results.
Sheen fabric is suitable for the following types of make and designs:
Blouses
Men's shirts
Skirts
Pants
Lingerie
Scarfs
Capes
Lapels
Cocktail dresses
Luxury dresses

Evening gowns
Prom dresses
Wedding gowns
Bridal gowns

Many more
Advantages of Sheen Fabric
Sheen fabric is a popular type of fabric for numerous designs because of its opulent and shiny characteristics. However, using sheen cloth has a number of additional advantages.
Excellent Appearance
The main advantage of sheen fabrics is always their shiny surface, which gives them an extravagant and expensive appearance, particularly in making dresses and gowns. Sheen fabric can be used to add opulence and shine to a dull look. Many designers have their dresses, shirts, skirts, and other garments made from sheen fabric to elevate their collection.
Smooth Feel
Sheen fabric is not only shiny to look at, but also smooth and silky to the touch. Sheen is a good fabric option for products that will be in direct contact with the skin, such as lingerie, undergarments, pajamas, and bedding. Those with sensitive skin can benefit from sheen fabric products because they are not irritating.
Versatile
Sheen is a thinly woven, lightweight fabric that drapes beautifully whether along a straight line or curve. This is excellent if you want to create clothing with soft, inviting folds that still cling to the body in just the right way.
Products made from sheen fabric can be worn in a variety of ways and are appropriate for a variety of activities, functions, and occasions.
Durable and Long Lasting
While giving the impression of being delicate due to its appearance, sheen fabric is actually one of the strongest materials available. Even after years of use, sheen is less likely to fray or fall apart due to its high tensile strength and durability. Moreover, sheen fabric is woven from materials that are inherently resistant to stains and odors. It can survive the majority of incidental damage, which contributes to further extending its lifespan.
Choose Search For Fabric for All Your Sheen Fabric Needs
Search For Fabric is a premium wholesale fabric supplier that has a track record of success in supplying clients with high-quality fabrics for producing high-quality products. No matter what kind of sheen fabric you need, Search For Fabric has got you covered.
We are your one-stop shop for all of your fabric-specific needs. We have a selection of sheen fabrics in a variety of types, colors, and designs that can suit your requirements and uphold your standards. These items include satin fabric, velvet fabric, holiday fabric, and more.
Contact us today by phone at 213-623-2522 or by email at support@searchforfabric.com. Our professional team will be more than happy to assist you in finding the best sheen fabric for you.