Why Satin Is the Gold Standard for Evening Gowns and Other Clothing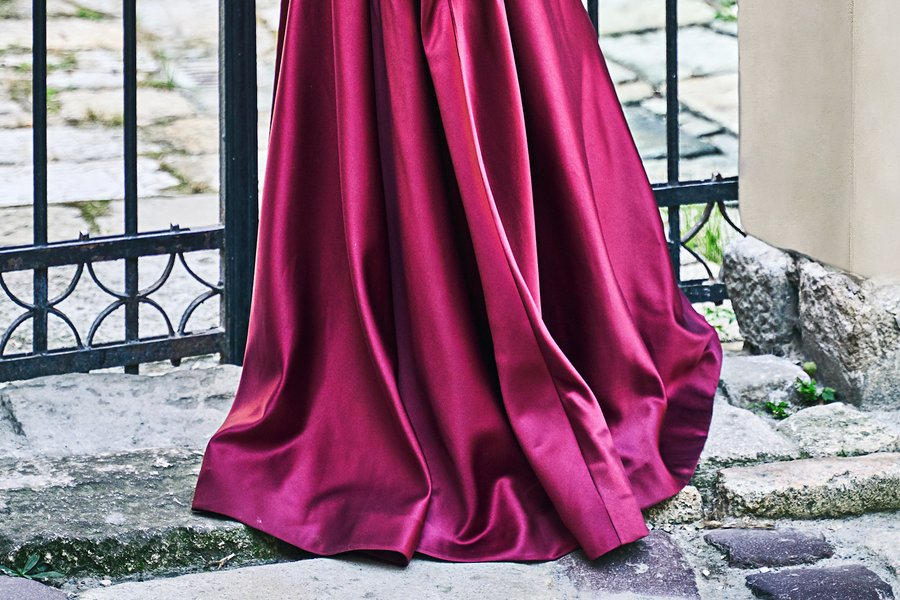 If you love fashion and clothing, there's no doubt you've seen or at least heard of satin fabric, an elegant and luxurious fabric that is silky smooth and soft to the touch. The product features a shiny surface on one side and a lightly textured, dull surface on the other.
Satin is a popular fabric for many reasons. It is often used to make blouses, gowns, bridesmaid dresses, suit pieces, slips, and more. Keep reading to learn why satin is the gold standard for formal wear. 
What Is Satin?
Satin is produced through the use of the satin weave, which has a 4:1 weft-to-warp ratio. The weft thread crosses over three warp threads and is the main reason why one side – the side with more weft threads – is silky smooth and the other is more matte and textured. It is possible to create a satin weave with a variety of materials, including silk, polyester, and cotton fibers. 
Along with twill and plain weaves, satin fabric is one of the most common textile weaves. Satin, however, is very distinct due to its trademark shine and beautiful drape. Thanks to the unique weaving structure, satin fabric also has excellent wrinkle resistance and durability.
Satin fabric can come in a wide range of styles and printed designs, but not all satin fabrics are made equal. Depending on the material, the fabrics will vary in stretch, weight, as well as luster. However, satin fabric is known as an elegant and stylish fabric that's used in all kinds of apparel.
Because of its sleek appearance, satin fabric has become a favorite for bridal gowns, bridesmaid dresses, formal attire, blouses, skirts, suits, and even pajamas. It is also used for accessories like scarves and ties.
The Origins of Satin Fabric
The first account of satin fabric being used dates back the medieval ages in China when it was made with silk. The weave originally came from Quanzhou, a Chinese port city, and was then exported to other places. It was called "Zaitun" in medieval Arabic, leading to the name satin that we use today.
Satin fabric, as well as its weaving techniques, was spread via the Silk Road, becoming widely popular throughout the Middle East. In the 12th century, Italy became the first Western country to create satin fabric, but it was being made all across Europe by the 14th century.
The Various Characteristics of Satin
In general, a satin weave will be more flexible than a plain 1:1 weave. Here are other well-known characteristics of satin that are both good and not so good.
Shiny Surface
The unique weave makes one side of the fabric shiny and almost reflective, while the other side is dull due to the warps. Both sides are generally soft, but one side is more luxuriously smooth and silky. 
Wrinkle-Resistant
Unlike other luxury fabrics, satin actually won't wrinkle much – the thicker the satin, the less it will be prone to creases.
Beautiful Drape
The concentration of fibers in satin fabric creates a flowing, soft drape that makes it ideal for dresses and other evening wear.
Durable
Satin makes use of long filament fibers that are woven in a highly stretched manner. This which produces a material that's stronger than plain weave fabric.
Snags Easily
The longer weft threads on the fabric tend to snag more easily than on other fabrics, which can leave the fabric looking unappealing and might ruin the whole garment.
Hard to Work With
Satin is extremely soft and silky, so it can also be slippery and very difficult to work with during the sewing process, especially when using a sewing machine.
The Individual Kinds of Satin
There is a wide range of satin types. They vary based on the fibers used for the weave as well as the type of satin weave used to make them. Below are a few examples of the kinds of satin weave.
Antique Satin
Also called "Satin Black Shantung", antique satin is a textured and heavy fabric that is fairly dull and lacks luster. This is due to its weave process that uses unevenly spun weft threads that are woven into the 5-harness or 8-harness style.
Antique satin is a good choice for creating upholstery, curtains, and bedding accessories.
Charmeuse
The name comes from the French word for "charmer". Charmeuse is known as a lightweight satin with an easy drape. It has the traditional characteristics of satin with a lustrous sheen and body-fitting properties.
The fabric is true to its name and delights those who wear it or see it worn. It's mostly used to make dresses and is a popular choice for bridesmaid garments.
Baronet Satin
Using a combination of cotton weft threads and rayon wrap threads, baronet satin is considered to be a highly lustrous type of satin fabric with a silk-like shine. On the back side, you'll find it looks like cotton because it uses cotton and rayon threads to get a stiffer drape.
This satin fabric can be used for projects such as:
Customized suits

Elegant dresses

Formal winter garments

Fashion accessories

Footwear
Duchess Satin
This heavy iteration of satin has less luster and is stiffer compared to standard satin. It will usually be dyed in solid colors to be used for dresses. Nevertheless, this elegant fabric will still provide you with a glossy finish, which makes it popular for evening gowns, lingerie, and bridal couture.
Keep in mind, duchess satin fabric can be expensive, so reserve it for custom dressmaking projects like bridal wear.
Crepe-Back Satin
Crepe-back satin is reversible. One side is lustrous and silky and the other side offers a crepe-like texture. Because of this duality, crepe-back satin is quite versatile and can be used to design clothing for your most special occasions.
Messaline
Messaline satin will have a high shine and is very lightweight since it's usually made from silk or rayon threads. It is often used for the most beautiful dresses, skirts, and scarves.
Slipper Satin
This lesser-known variant is a tightly woven, medium-weight satin fabric that's 100% polyester. It's also smooth and firm, but the shine and texture will vary depending on the fiber and the intended use.
As it's made from 100% polyester, slipper satin is mostly used for clothing, shoes, and accessories, but can also be used to make décor items such as tablecloths.
Polysatin
Polysatin is a combination word used for satin fabric that's been woven using 100% polyester threads.
Stretch Satin
Stretch satin fabric is very popular within the clothing industry since it offers some elasticity thanks to the added lycra, spandex, or elastane. Stretch satin fabric is a great choice if you wish to make form-fitting dresses, bridal wear, or lingerie that move with the body.
Double-Faced Satin
As its name suggests, double-faced satin fabric provides a highly sought-after shine on both sides of the product. It's completely reversible!
However, the added silky texture doesn't make it a good choice for clothing. Instead, this mid-weight satin fabric is best used for decorations, ribbons, and gift-wrapping supplies.
What Is a Satin Weave?
Satin weave can be categorized as having four or more warp threads used over a single weft thread, or the opposite, which is four or more weft threads used over a single warp thread. When weaving, warp threads are kept stationary by the loom while the weft threads are taken over and under many times.
Different Kinds of Satin Weaves
Satin can be woven from long and continuous fibers – it is defined as satin by the filament's length rather than the fiber used for it. In ancient times, satin was created using the cocoons from silkworms and silk they produced. Nowadays, modern satin fabric can be made from rayon and polyester, both of which can be made into long filaments.
Today, there are many different kinds of weaves, including:
4 harness satin weave:

Where a single weft thread will go over three warp threads, then under a single warp thread. Compared to the plain weave, this arrangement will provide more stretch and elasticity where the weft and warp threads have a 1:1 ratio thread cross.

5 harness satin weave:

Similar to the first variant, but this weave uses a single weft thread going over four warp threads, then under one.

8 harness satin weave:

This weave is known for its flexibility – a single weft thread will need to go over seven warp threads and then under one.
How to Put Satin to Use
There are plenty of uses for satin fabric. Below are a few of these uses and how much satin fabric you will need.
Dresses and Dressmaking
Due to its lustrous feel and beautiful drape, satin fabric is a staple for wedding dresses and evening gowns. It has an incomparable flow and sheen that makes it a popular choice for anyone wanting to make customized dresses.
Footwear
From designer heels to ballet slippers, satin fabric has been a luxurious choice for many shoe designers. In recent years, however, designers have even used satin fabric for sneakers and other casual footwear.
Fashion Accessories
Clutches and evening bags are often made from satin fabric. You'll also see a lot of scarves made of silk satin material.
Various End Uses for Satin Fabric
Satin fabric is among the leading choices for luxury wear so designers and manufacturers don't have to come up with extravagant designs that need extra embellishments. A satin dress can have a simple cut, yet still look elegant and expensive.
Here are just a few of the end products that can be made using satin fabric:
Wedding dresses

Evening gowns

Corsets

Blouses

Skirts

Shirts

Lingerie

Loungewear

Inner linings

Underwear
While satin fabric has become a favorite when it comes to dressmaking, there are many other ways in which it can be used to create sophisticated and fashionable pieces, which include:
Hats

Neckties

Athletic shorts

Ballet shoes

Neckbands

Gloves

Scarves

Sashes

Purses

Brooches
A satin element will add flair and style to any kind of design, whether you're making a dress or hat.
Satin Fabric Care Guide
Caring for and washing satin fabric will depend on the kind of satin you have. Satins that are made with cotton or synthetic fibers can be washed at home. However, satin that's made from silk will need to be taken to the dry cleaners. 
Here are a few guidelines to follow when washing your satin fabric products at home:
Always wash satin fabric by hand or use a delicate cycle along with gentle detergent in cold water.

Never wring satin fabric dry or hang dry it because the satin fabric can easily lose its shape. Lay it flat to dry.

Don't use your dryer; instead, lay it flat on a clean towel and let it dry.
It is best to check the care instructions for your satin material and be sure to put them on the tags of your garments.
Wholesale Satin Fabric at Search For Fabric
If you need help looking for satin wholesale fabric by the roll, then look no further than Search For Fabric. As a wholesale fabric supplier that's been in the business for 25 years, we've recently added our stock to our online store, where we can serve more clients and offer shopping in bulk discounts.
Based in Los Angeles, CA, we are now expanding to provide satin fabric nationwide, focusing on selling silk satin fabric wholesale in a wide range of solid and printed designs, including:
Flowers

Cheetah

Retro

Abstract

Polka dot

Stripes

Snakeskin

And more!
With a wide range of satin fabrics available, Search For Fabric is here to help! We can provide high-quality fabric by the yard or by the roll to provide you with everything you need for all your satin clothing projects. Shop today!